To prevent employees/users from seeing store sales totals (i.e., Year to Date sales, Current Inventory (Cost/Retail), Open PO's, Account Receivable and Accounts Payable), update the security settings for the user.
Open The Uniform Solution program:
Go to Setup > Users
Double-click on the user (or highlight the user > click the User button > select "Edit User")
Click on the Security Settings tab
Click on the Reporting tab
Uncheck the "Run sales reports and totals" option
Uncheck the "Run accounts receivable reports and totals" option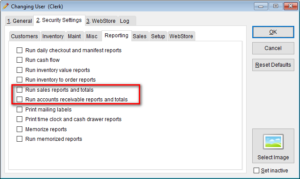 Click "OK" button to save the changes
If the user already has the US Mobile app opened, they may need to exit and re-open the app for the changes to take effect.
The user will still be able to view sales where their names are in the  "Clerk" or "Sold By" fields on invoices.