With the COVID-19 running rampant, health care professionals and first responders are still going to need your services, and we want to help you reach out to them with marketing communications. Your top priority is to assure them that they'll be safe shopping in your store and that they can access your full inventory online if they choose.
We suggest starting with email communication. Below is a template you can copy and paste into your preferred email campaign builder. Mailchimp and Constant Contact are both great options with easy to follow set up and drag/drop templates.
Email Template:
[Store Name Here/Logo Graphic]
We are Ready to Help all Heroes! 
[high-quality email graphic] – We've provided a few examples for you to use attached to this article. 
Thank you for being on the front-line of the Coronavirus and caring for Americans.
If we can help you in any way, please call us at [xxx-xxx-xxxx], shop online at [xxxxxxxxx.com], or stop by.  Our store is following CDC guidelines if you want to shop inside, or you can shop online and request an in-store pickup.  Need help finding something – just give us a call.
Here is an example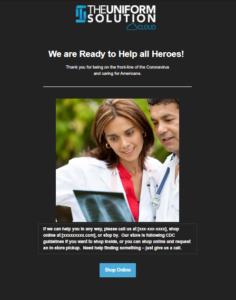 [optional messaging] Come in through Saturday, March 28th, a receive a [xx%] discount.  If you are shopping online, all merchandise is discounted [xx%].
The images provided for your email can also work for Instagram or Facebook posts. You can use the same verbiage used for the email, so customers receive a clear, unified message no matter the marketing channel.
Letting your customers know you are here in this time of uncertainty will go a long way with building relationships and loyalty for the future.
If you have any questions, contact us anytime at marketing@ddsus.net