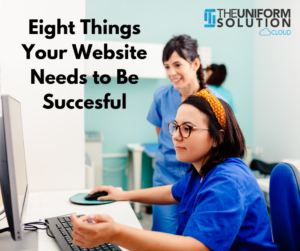 If 2020 taught us anything, businesses need to be accessible online and their websites need to be great. But what makes a great website? We're here to help you perfect the art of a good site with The Uniform Solutions List of 8 things your website needs to be great. In no particular order, these are all essential features.
#1 Your website should be simple and straightforward to navigate. Make it easy for customers to find what they are looking for by having your products organized and in categories that are easy to recognize for their industry.
#2 Updated inventory is imperative for a great website. In an industry that services so many essential personnel, it's necessary for your shoppers to know what's in stock online and in-store.
#3 Millennials make 54% of their purchases online. 63% of those purchases are over their phone. Having a website that is responsive or mobile-friendly can make all the difference in sales. Having a mobile website version that is easy to scroll and makes checkout a breeze will keep customers shopping with you repeatedly.
#4 Ever have tons of questions about products online? Give customers the information they need to make informed purchases. Images and product descriptions are the perfect way to give customers more details on uniform apparel they're interested in buying.
#5 In today's climate, customers are looking to do business with companies that put their safety first and give them options to get what they need quickly. Allowing your customers to choose curbside pick up or offering delivery to customers who may not feel comfortable shopping In-store is a great way to let your customers know keeping them safe is essential. Your website should give the customer the option to choose what works best for them.
#6 What sets you apart from other companies? Let potential customers learn more about who you are and what makes your business unique by featuring information on an About Us Page or blog connected to your website. Customers want to do business with someone they feel like they know or can relate to.
#7 Having a sale or want customers to know an essential change in operations? Your website needs to have space to share marketing details or any crucial information that may affect their purchase. These areas should be prominently featured, so customers don't miss pertinent news.
#8 Your website is one of your most crucial customer communication tools, but it shouldn't be your only one. You need to be able to reach customers on a variety of different. A recent survey conducted by Twilio shows that consumers prefer email by a wide margin. Sixty-seven percent chose email when asked how they'd like to hear from companies, 22 percent higher than the next most commonly selected option, social media updates (45 percent). Demographics are a large deciding factor for these results. Your website should allow you to access your customer's emails and send communications about what is happening in your business. With a 98% Open rate, text messages are also a great way to get information right in front of your customer. Text messages should be reserved for important matters, like order completion or significant operational changes, but your website should give you the ability to use texts whenever you need to.
The good thing is The Uniform Solution WebStore has all of the features you need for a successful website. Haven't set up your online store yet? Give us a call at 469.547.6305.