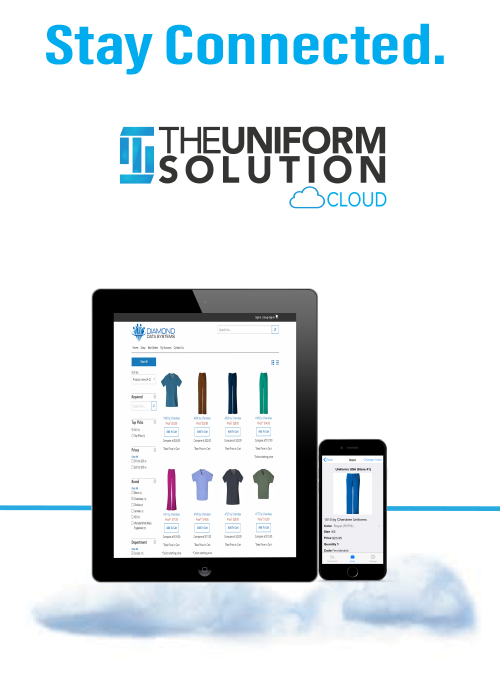 What is the difference with the Cloud version and the Desktop version?
Very little changes with how you use the software. It is still the same familiar program you use everyday. There are only a couple minor changes, like how you save a report since it is generated on a cloud server and needs to be saved on your PC. We help you understand these changes during the initial installation process.
And you continue to get the features that make your day easier including Vendor Catalog updates, Mobile Apps for Android and iOS, Connected Feature functionality, all software updates, and two hours of Technical Support each month. There are no long-term contracts so you can cancel at any time.
What is required to switch to the Cloud version?
A strong internet connection is needed to use The Uniform Solution Cloud.
The Cloud version is an internet hosted platform, and your internet connection is important to use The Uniform Solution Cloud to its full capabilities.
Talk to our Support team today to learn about The Uniform Solution Cloud and internet requirements.
Does it work on Apple products as well as Windows?
The Uniform Solution Cloud can be accessed on any product with an internet connection, including macOS and iOS devices.
Credit card integration with The Uniform Solution Cloud still requires a Windows based PC, so we advise that register computers operate Windows 8 or Windows 10.
What about my Mobile Store on my laptop?
While you can conduct mobile sales using The Uniform Solution Cloud, we advise that you keep your Mobile Store data on your laptop. As mentioned, The Uniform Solution Cloud is an internet based platform and there might be internet connection issues at the locations for your mobile sales. This is why we advise that mobile sales have the local Desktop version of The Uniform Solution installed on the laptop, so you can conduct your mobile sale even if internet connections are unreliable.
Other relevant Cloud articles: