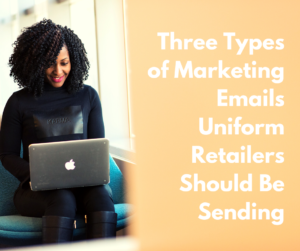 COVID-19 has changed our world and how we need to market to customers for the foreseeable future. For brick and mortar stores that typically do a lot of in-person marketing, you probably know that email marketing is now an essential part of communicating with your customers. According to a recent survey conducted by Twilio, Sixty-seven percent of consumers chose email when asked how they'd like to hear from companies. So if you're not sending marketing emails, you could be missing out on sales and customer relationship-building opportunities. Here are our thoughts on three types of marketing emails uniform retailers should be sending to customers.
Number one on our list of marketing emails uniform retailers should send to customers is sale/discount and promotions. A new survey from RetailMeNot shows deals have a substantial influence on customer acquisition, brand loyalty and brand perception among consumers. The survey found that two-thirds of consumers have "made a purchase they weren't originally planning to make solely based on finding a coupon or discount." Send those promotions style emails too! Just receive a new uniform style or accessory? Let people know. Even if you're not offering a discount or sale on the new items, it's great to keep your customers in the know about any new products that are dropping.
Customers have lots of options on where they can purchase uniform apparel and accessories. Who you are as a business is now a critical factor in that decision-making process. Brand Story emails are a phenomenal way for customers to learn more about your business and your brand. Brand emails should contain info on your history, mission, what sets you apart from others, and what you do to support those ideas. Was your store recently featured in a local publication? Did you donate to a charity or just have great news you want to share? Put it in an email. Fostering deeper connections beyond products builds brand loyalty, which can ultimately translate to sales.
Informational emails are also a great way to build relationships with customers outside of sales and position you as a source of uniform industry knowledge. Providing your customers with uniform care tips, industry news and other useful information will go a long way. Also, informing customers of significant store policy changes via email can save you both headaches. Keeping your customers well informed of changes to your business that may affect them is a great way to build a relationship with someone they can depend on.
Consider crafting a monthly or quarterly email to deliver brand story content, tips, events and other highlights at one time—this way, you aren't bombarding your customers with emails constantly. Ideas for content in these types of emails can be found by connecting with vendors or joining uniform retailer community groups like the Uniform Retailers Association (URA) or National Association of Uniform Retailers and Manufacturers (NAUMD). 
The great news is The Uniform Solution makes it easy to export the customer emails you have on file and send emails like the ones we discussed above. You can import your customer lists into various email marketing apps that allow you to design emails as you see fit. You can access customer email lists in three easy steps:
Go to your home menu, choose "Export" and select "Customers"
When the export customers file box pops up, make your selections on the general tab
Sort your file by Zip/Postal and the options tab and push OK
For more information, visit the knowledge base here http://tusknowledgebase.com/knowledge-base/exporting-customer-emails/